If you are considering releasing equity from your home it is important to know the value of your home first, then you can begin calculating how much cash could be available. House prices are fluctuating all of the time and obviously vary across the country so it is impossible for us to tell you how much your house is worth. However, we do have some tips which could help.
The internet is full of websites and tools which can help you get an estimate of the worth, before you decide to pay for an independent valuation or begin the process of applying for an equity release product.
We have compiled some tips to help you work out how much your home could be worth below.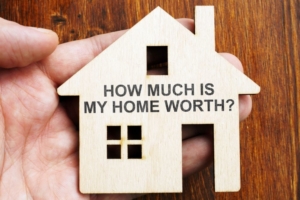 1. Find out how much properties near you sold for
There are a number of websites which will tell you which properties have sold, and for how much. The data may be held on the sites for a number of months after the sale has been completed.
These sites will also include photos and floorplans which will enable you to compare the properties to your own.
2. Track house price trends nationally and more locally
The Land Registry is a great resource as it collects data on almost every residence sold in England and Wales. It breaks the data down by region and types of property. It may not always be the most up-to-date information but can give you an idea of what kind of figure you can expect to get.
3. Get a free valuation
The internet is full of property websites which can give you an estimate of what your house could be worth. They will ask you for a range of information and then give you a final figure. It is worth noting that this figure could be way off the true value and you should use a number of different research methods to give you a better picture of what you can expect.
4. Find local asking prices
Walk around the streets close to your home to see how many other homes are on the market. Check local estate agents' windows and websites to compare similar properties and their asking prices.
5. Environmental factors
Are there any environmental factors such as a high flood risk or high levels of pollution which could affect the value of your home? There are websites which allow you to check the nitrogen dioxide levels in your postcode and will tell you if they exceed the World Health Organisation's legal limit for clean air. It is also worth considering any noise pollutions issues such as proximity to a train track or living under a flight path.
6. Social and economic factors
House prices and demand can also be affected by issues such as crime, council tax, amenities, schools and transport links. These are elements buyers place a lot of value on when researching areas and suitable properties. These will also be taken into consideration when valuations are carried out by mortgage lenders and estate agents.
When you have done your research on the approximate value of your home and have decided to access equity release it will be time to have an independent valuation carried out by a chartered surveyor.
As we have stated in other blogs, if you are seeking a lifetime mortgage you can usually borrow up to 60% of the value of your home. If you are taking out a home reversion plan you can borrow between 20% and 60% of the market value of your home.
:: Use our Equity Release Calculator to work out how much cash you could release.
It is important to take expert advice on equity release before deciding whether it is right for you. Contact us to find out more from one of our highly trained advisors.