As life expectancy in the UK continues to increase, many people are spending longer in retirement than ever before. This means that some people will want to have plans in place to make sure they are financially secure and happy in their later years. This could include going on holidays, taking up new hobbies or renovating a house.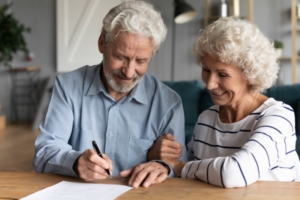 Later life lending
Some traditional mortgage companies may be reluctant to lend to over 60s if there are concerns about income or credit-worthiness. However, there are many firms, like Access Equity Release, which cater specifically for this age demographic. As we have outlined in our other blogs, the minimum age for a lifetime mortgage is 55 and there is no upper age limit. The money you borrow will be paid back to the lender when you die or enter permanent long-term care.
Drawdown Lifetime Mortgage
If you are still in your 50s or 60s you may choose to take out a drawdown lifetime mortgage which is an alternative to taking out a lump sum of cash. This type of product allows you to take out smaller amounts of money over a period of time, which means your debt accumulates more slowly. You are only charged interest on the sums you withdraw and not the total amount.
Home Reversion Schemes
Home reversion schemes are a specific type of equity release. The majority of people who choose to release equity choose a lifetime mortgage rather than home reversion. However, they are suitable in some instances. They have a minimum age requirement of 65. This involves selling part of your home for a cash lump sum and then receiving a lease to remain in your home until you die or go into permanent residential care. When you die and the property is sold, the company will receive some, or all of the proceeds of the sale depending on how much you sold to them. The younger you are, the less money you will be offered because the company will have to wait longer to get their money back. If you are taking out a product with a spouse, the amount you receive will be based on the life expectancy of the younger person.
If you have taken out a home reversion plan but die sooner than expected or decide to sell your property you could lose money as you will have sold some of your home at a reduced value. Some plans give a rebate if you die within the first few years of signing up so it is worth checking the terms and conditions of any product you choose.
Consider all your options
If you are expecting to have a long retirement period there may be other alternatives to equity release which suit your circumstances better. These could include downsizing or other alternative methods of raising the money needed. As always, our recommendation is to speak to a qualified equity release adviser who will be able to help you decide if equity release is a good solution for you.
:: Use our Equity Release Calculator to work out how much cash you could release.
It is important to take expert advice on equity release before deciding whether it is right for you. Contact us to find out more from one of our highly trained advisors.