Equity release interest rates are at some of the lowest levels they have ever been so now could be the time for you to consider unlocking your hard-earned cash. Holidays, hobbies and social lives may have been on hold for the past year but as things start to look a little brighter for the future, it might be time to take advantage of these low rates which can be fixed for the rest of your life.
The coronavirus pandemic has put things into perspective for many of us. Older homeowners who have a large amount of equity in their home may now be thinking about spending that money or using it to pay off other debts. If family members are struggling financially due to the pandemic parents or grandparents may also want to use the money to help them. The Equity Release Council (ERC) states that property is the single biggest source of household wealth for over-75s in the UK at over £775bn.
The volatility of the stock market over the past year is another reason why people are choosing to release equity to boost their pensions or retirement income. The ERC said the market has shown much resilience in what has been a hugely challenging year for both personal and business finance.
Lifetime Mortgage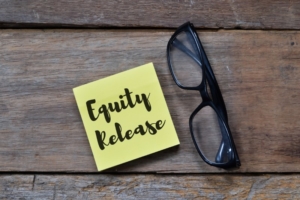 The most popular type of equity release product is a lifetime mortgage. This allows you to release a tax-free lump sum without having to pay the interest off until you die, your home is sold or you go into permanent care. ERC statistics showed lump sum lifetime mortgages made up 43% of new plans agreed across the whole of 2020, the largest annual share of activity since 2009 (44%).
A drawdown lifetime mortgage may appeal to some people because it allows you to release funds when you need them which means you have less interest to pay. This means you have more control over your money, which should also have less of an impact on any means-tested benefits you receive.
Equity Release Financial Planning
Jim Boyd, chief executive of the ERC, said: "Today's retirement landscape makes it vital for people to think about how best to use all their assets to support their financial plans. Many people wish to grow old in the comfort of familiar surroundings, so the option to unlock property wealth to supplement pension income can give them a better chance of securing a comfortable retirement."
After you have taken out an equity release plan you can still remain in your home for the rest of your life. When you die or your home is sold the loan will be paid off with the proceeds from the sale and any money left over will go to your beneficiaries as stated in your Will. All providers must issue a no negative equity guarantee which means your estate will never owe more than the value of the property when it is sold.
:: Use our Equity Release Calculator to work out how much cash you could release.
It is important to take expert advice on equity release before deciding whether it is right for you. Contact us to find out more from one of our highly trained advisers.